WAIKOLOA VILLAGE, Hawaii – More than 1,000 advance funeral planners, funeral home owners and staff, family members, and Precoa leaders gathered in Hawaii to celebrate the industry-leading performance of advance funeral planners during the annual Precoa Escapes celebration.
Record sales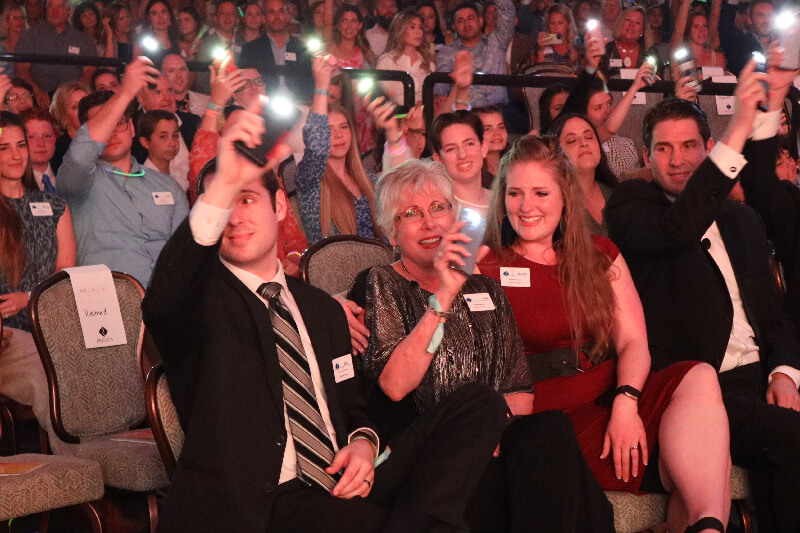 Members of the Hornibrook family hold up their phones during Precoa's annual Celebration Event honoring the hard work of advance funeral planners.
A pace-setting 116 advance funeral planners in attendance were individually honored for generating anywhere from $1 million to $5 million in preneed contracts in 2021, which represents the highest concentration of Million Dollar Producers in the funeral profession. Brian Whittecar, Precoa vice president of sales, said that's the highest number of MDPs for a Precoa Escapes trip in the history of the company.
116
Advance funeral planners generated anywhere from $1 million to $5 million in preneed contracts in 2021
During the Escapes Celebration Event, Precoa named O'Connor Mortuary and Bradford O'Keefe Funeral Homes as Funeral Homes of the Year. Both O'Connor – based in Laguna Beach, California - and Bradford O'Keefe - based on Mississippi's Gulf Coast — participate in Precoa's ProActive Model and have continued to grow in sales through many years of partnership with Precoa.
Kelly Kohut, Senior Director Field Project Development, accepts the Field Manager of the Year award from Precoa cofounder Bret Davis and Precoa president Michael Hornibrook.
Pam Gehrs of Park Lawn Corp. and Cole Waybright of Foundation Partners Group were named Sales Leaders of the Year. The award is given to a Precoa partner who takes extra care to ensure that advance funeral planners and the Precoa field team can fulfill the company's vision to prearrange all families.
Precoa also honored Kelly Kohut, Chris Tamme, and Kevin Robinson, as Field Managers of the Year. Their proactive, hands-on coaching and care for advance funeral planners across the country exemplify Precoa's values of Kindness, Progression and Craftsmanship.
Record attendance
It was a record number of attendees for the annual incentive trip after a record-breaking year for Precoa and their funeral home partners. With all-time high attendance, Precoa knew how important it was to express gratitude for every person who came on the trip.
"We know helping families preplan funerals is not a 9-to-5, Monday-to-Friday job and everyone in the family makes sacrifices," Whittecar said. "Their talent and dedication is inspiring, and it drives us to craft a one-of-a-kind experience where they can create unforgettable memories. It speaks to the incredible talent we have across the sales field and across Precoa who all work together to help families at such a high level and to the trust that our Advance Funeral Planners will do what's best for families and funeral homes."
Record hugs
This was also the first Escapes without Precoa co-founder Mark Hornibrook, who passed away in February. Mark's vision for the Escapes program transcended the traditional incentive trip to match the company's gratitude for those who work hard each day to serve families. Hornibrook's passion for honoring that hard work continued. A playlist of his favorite music filled the air at each gathering. And at the Celebration Event, the entertainment was joyous, with leaders from across Precoa performing on stage, lip-syncing, and dancing in costume to some of Hornibrook's most-loved songs.
What thrilled Hornibrook the most was making everyone happy. He loved the idea of delivering on everyone's hopes and dreams.
"Multiple people within Precoa and outside the company mentioned how impressed they were at the dedication of our entire team."
"The Celebration Event was one of Mark's favorite parts of the year," said Jessica Seus, senior experience manager. Mark's wife, Ane Hornibrook, was in attendance, along with most of their children, including Precoa President Michael Hornibrook, Vice President of Marketing Tyler Hornibrook and Technology Support Manager Eric Hornibrook.
"Ane was able to bring something special that would have felt like it was missing if not for her," Seus said, adding that it was especially touching to hear Ane share memories of her husband.
Precoa is famous for its culture of kindness, and the 2022 Escapes celebration was no exception. "Multiple people within Precoa and outside the company mentioned how impressed they were at the dedication of our entire team," Seus said. "That dedication speaks volumes to the culture of Precoa, and it's clear how much we care about our advance planners and the families they serve."