Worry-free preneed is easy
Greenlawn goes from struggling alone to thriving with complete support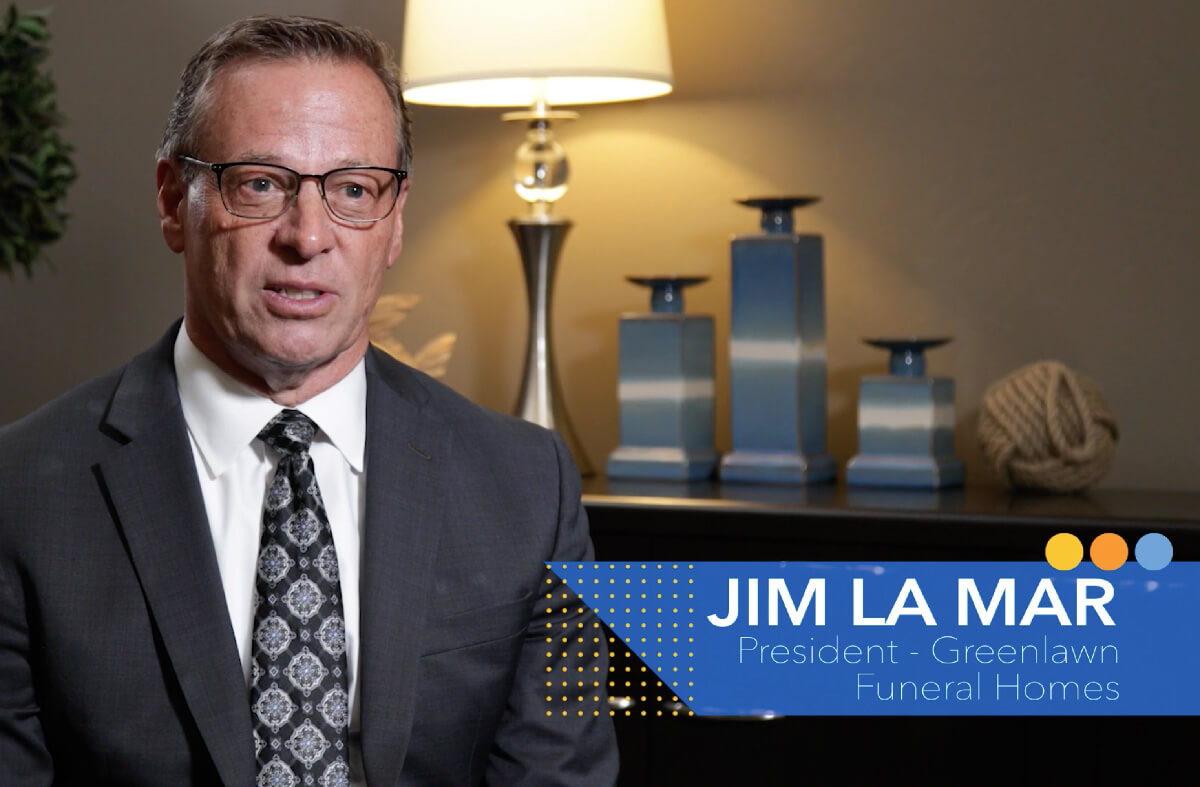 The Challenge of Preneed Momentum
Jim La Mar knows superb preneed.
Early in his career, he was Greenlawn Funeral Homes' top preneed producer, helping thousands of families around Bakersfield, California put an intentional plan in place for healing after the loss of a loved one.
So when he returned to Greenlawn years later as President, he found that he continued getting involved in keeping his preneed program afloat.
"At some point, I realized that I just don't have the time to keep going back and trying to resurrect preneed," Jim said. "I felt like so much of the burden was on me to try to save it, to get volume back up, and to develop our sales managers."
That all changed after Greenlawn partnered with Precoa.
Going through the motions
Most preneed providers offer a product, and they might be available to answer questions if needed, but funeral homes like Greenlawn are otherwise left on their own.
"Prior to Precoa," Jim said, "every time a rep would come out and work with my sales team I would ask our staff and even myself, Did they really make a difference? Was there anything they did that made you feel better prepared? That improved your presentation? helped you get better results? or helped you be more successful? Usually, the answer was no."
This level of service and support was naturally the complete opposite of what Greenlawn provides to families. As a locally owned funeral home, they are sensitive to the needs of the families they serve and do everything in their power to help.
"Every decision we make starts with us asking whether it is the right thing to do for families," Jim said. "We feel blessed to serve our community, and we strive to truly understand what each family needs. To really listen with our hearts."
The exceptional quality of Greenlawn's service is what differentiates them from their competitors. It's also the reason Jim started looking for a provider more aligned with his values.
How well do you know Precoa?
With Jim's extensive experience in the funeral profession, he had certainly heard of Precoa.
He knew the details about the company's history and reputation, but he wanted to learn more before he considered anything further. So he asked for a list of funeral homes Precoa had worked with and started reaching out to owners all across the country.
"I planned to cherry-pick from among the owners I knew on Precoa's list instead of calling the owners they wanted me to call," Jim said. "The feedback was incredibly positive. One comment that stayed with me came from a sales manager. She said, 'I plan on retiring soon, and I want to make sure we have the best partner to take what I've done into the future.' And that partner was Precoa."
It was hard not to be excited about a potential partnership with Precoa. Jim La Mar Greenlawn Funeral Homes
Jim's next step was to visit Precoa's home office, which only further solidified his interest in making a change.
"We really just got to see behind the scenes," Jim said, "and we were so impressed. To see the operations, the level of intellect, the decision-making processes—it was hard not to be excited about a potential partnership with Precoa."
The thrill of surpassing every projection with Precoa
The first step of partnering with Precoa was to tap Greenlawn's full preneed potential.
Like so many funeral homes, Greenlawn's program relied mainly on walk-ins and call-ins to drive preneed growth. The time-intensive task of reaching more of their market was left up to their preneed team, who were also juggling setting appointments and meeting with families. By Jim's admission, Greenlawn was spending very little on preneed marketing.
Now, with Precoa by their side, one of the first things Greenlawn saw was the benefit of a proactive preneed program.
Through Precoa's data-driven and fully managed lead programs, Greenlawn started connecting with more of the families in their market most likely to preplan. With more of these lead generation programs being added and Precoa setting appointments through the Funeral Planning Center while also coaching Jim's preneed team in the field, Greenlawn's program really started growing.
In our first year we blew our initial market share projections away. Jim La Mar Greenlawn Funeral Homes
"The great news is that in our first year we blew our initial market share projections away," Jim said. "We blew past them again our second year, and this year we're on a phenomenal record pace."
The advantages of stellar preneed service
Switching preneed providers is a big decision for funeral homes.
There are so many factors to consider, and one of the biggest concerns is how it might disrupt a firm's sales force. This was certainly a concern at Greenlawn.
"When you sit down and look at all the components, it's sometimes paralyzing," Jim said. "But it was so easy to work with Precoa and really analyze every detail. And then they helped make the transition so smooth."
Yet it is the support for Jim's staff that makes the biggest difference.
Seeing the heightened levels of service from Precoa made partnering with them a no-brainer. Jim La Mar Greenlawn Funeral Homes
"What really matters with a preneed provider is what kind of representation you get," Jim says. "The interpersonal contact and their commitment to developing and expanding your program are critical. Seeing the heightened levels of service from Precoa made partnering with them a no-brainer."
Jim is excited to see his preneed program thriving. His sales team has complete support so they can focus on continuously improving. Not only are they getting better results, but they're also spending more time meeting with families.
The burden of constantly monitoring preneed has also been lifted. Jim no longer needs to worry about reviving a struggling program or whether it will reach its full potential.
"Once we partnered with Precoa and I saw their level of service and support, it took a huge burden off my shoulders," Jim says. "To anyone thinking about switching to Precoa, I would say take the plunge. Don't be afraid because I wish we would have done this years ago. Now to Greenlawn's board of directors and owners, I look like a hero."