Moving forward faster
Charles F. Snyder receives total support and sharpens its competitive edge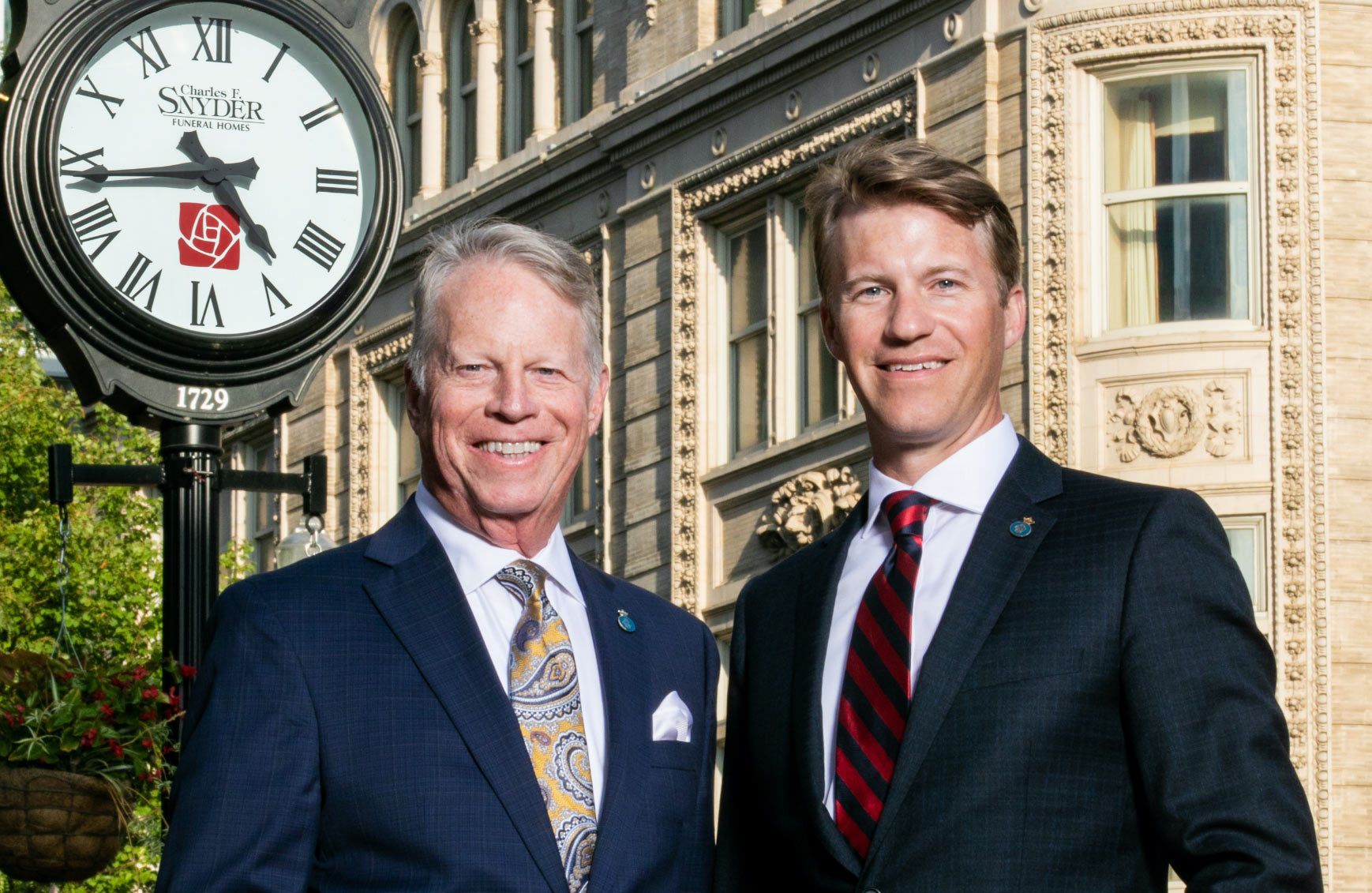 [Left] Chip Snyder, President [Right] Chad Snyder, General Manager | Charles F. Snyder Funeral Homes & Crematory
The Challenge of Preneed Momentum
Like all fathers and sons, Chip and Chad's relationship is animated by a healthy dose of competition. You can hear it in their banter, and you can see it in their business strategy. They are always moving forward, always thinking, looking around, listening, and paying close attention to everything.
"Chad and I share a philosophy," Chip said. "The minute you stop moving forward, even if you pause for a little bit, you've stopped—and the competition catches right back up to you."
2x
Even with an already active program, the Snyders saw their preneed volume double and their at-need volume increase after joining Precoa.
This philosophy is what led Chip to embrace cremation when other funeral homes were ignoring it and to get his preneed license when customers began asking for preplanning in the 80s. It also led to well-calculated risks like when Chip built what became their flagship location in the middle of nowhere, at the height of a recession. More recently, Chad led the construction of a beautiful addition incorporating a crematory, witness chapel, and comfort room; they've also acquired two new funeral home locations and a book of prepaid cremation services.
The Snyders have constantly tried new strategies to stay at the forefront of growth, and they have built an impressive brand through community outreach and marketing. (Just take a stroll through Penn Square and ask anyone for the time.) Preneed was the next frontier, a growth driver that would help them stay competitive, but their program was underdeveloped. It lacked focus. What they needed was a partner who had a gameplan, a strategy as systematic and innovative as their own approach to growth.
The Preneed Power-up They Needed
When Charles F. Snyder Funeral Homes partnered with Precoa via the Outlook Group, their preneed program had been growing steadily. Yet Precoa offered even more resources and support.
"They are just able to take on so much," Chad said. "There's better turnaround, more people working to support us, and they share our philosophies and values."
"Precoa is a shoulder our funeral home can lean on," Chip said, "and they give our advance funeral planners a shoulder to lean on too through the Funeral Planning Center."
Chip and Chad have always been proactive in their market, so Precoa's ProActive Preneed® was a natural fit. The marketing and lead generation strategies Precoa offered helped Charles F. Snyder Funeral Homes reach more of their market and target increasingly refined segments.
We want to make sure to provide our organization and the families we serve with the very best. And that's why we're with Precoa. Chad Snyder Charles F. Snyder Funeral Homes & Crematory
More than that, Precoa tracked and managed these leads, contacting interested families through the Funeral Planning Center (FPC), which set appointments and began helping the funeral home develop relationships with customers. The top talent that Precoa recruited and trained only strengthened these relationships, which served to further strengthen the brand the Snyders have worked so hard to cultivate.
1947
Charles F. Snyder Funeral Home sits in the heart of Lancaster, PA. It was here, above the funeral home, that both Charles "Chip" Snyder and Charles "Chad" Snyder grew up, quickly learning the ins and outs of how to occupy oneself quietly during services.
Chip and Chad had run their own marketing and Lunch and Learn programs for years, but their efforts were now combined with Precoa's proven marketing channels, careful follow-through, and detailed reporting. Working together, Charles F. Snyder Funeral Homes and Precoa could become more efficient, more streamlined. They knew their combined results would be staggering.
Always Getting Better
For as competitive as the Snyder family is, they've never been afraid to ask for help. From pooling their ideas with other funeral directors to seeking advice from like-minded partners, they wisely study how they can continue improving. With the data provided by Precoa, the Snyders receive continuous insights into their market.
"We're able to study our business better now than ever before by gathering the needed knowledge to look at it differently," Chad said. "We can look at an investment, see the outcome, and critique it and improve it with the provided analytics."
The Snyders are now constantly apprised of every key metric. They can easily categorize different lead sources, and they can quickly compare specific insights from previous marketing experiences, giving them an enviable level of precision.
Penn Square Clock
Charles F. Snyder Funeral Homes donated the Penn Square Clock to the city of Lancaster in 2016. It sits just a few blocks away from their first funeral home location.
Examining the granular details has also encouraged them to attempt new strategies.
"We can now see the effect it has when we stick with a lead source in a specific part of our market," Chad said. "We can track it, critique it—when you have that kind of buy-in, the needle will move."
Since joining Precoa, Charles F. Snyder Funeral Homes' preneed volume has gone up more than 2X, and they've seen significant at-need growth as well.
"As a business owner," Chip said, "the partnership we've created with Precoa is what is so satisfying. We're teammates, and they help us take ownership of our program."
Through hard work, ingenuity, and the dedication to continue improving, the Snyders are pushing forward. They've long outpaced the status quo, and they're serving more families than ever before. "What we do is very simple," Chad said, "it's taking care of our neighbors. We want to make sure to provide our organization and the families we serve with the very best. And that's why we're with Precoa."