2x preneed for 10+ years
Sytsema gets sustained growth through a simple and effective program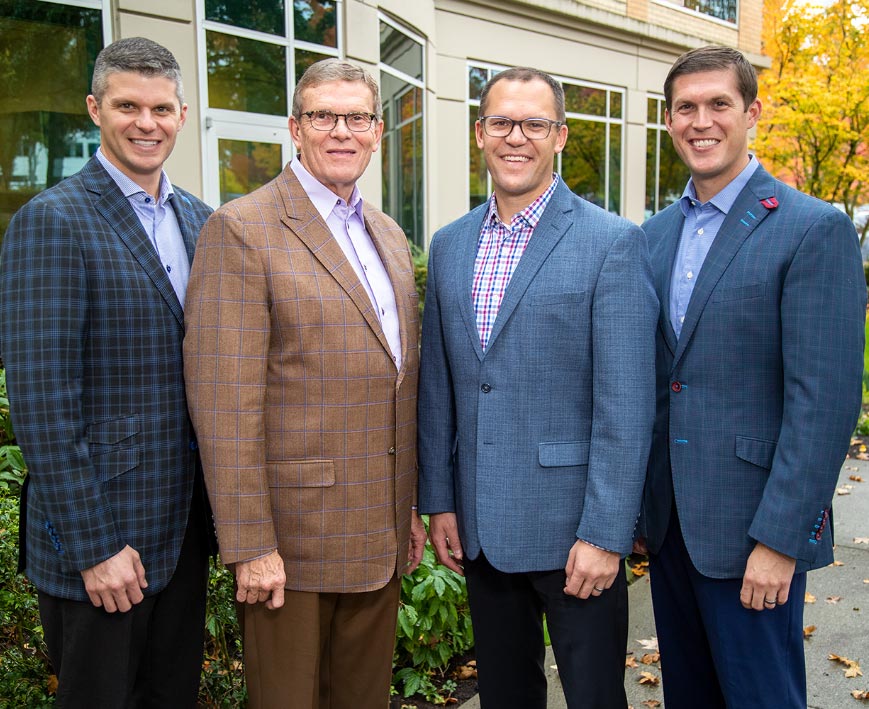 [From Left to Right] Todd, John, Scott, & Craig Sytsema | Co-Owners of Sytsema Funeral & Cremation Services
When John and his three sons—Scott, Todd, and Craig—arrived at Precoa's home office this past fall, they carried themselves with the lightness and rare confidence that comes only when you're doing exactly what you were meant to be doing, that line of work that suits you perfectly.
With their sunny laughter offsetting the gray Oregon sky, the Sytsemas shared why they were called to funeral service and why they trust Precoa. They're grateful to have found a partner so dedicated to their sustained success, a partner who has doubled their preneed while continuing to chart a course for their future.
Passive Preneed and the Question of Growth
John Sytsema saw the benefits of preneed from the beginning. Several decades ago, when the idea of preplanning was first conceived, John observed the stark difference between the families who had planned, and the families who had not. The latter were nervous, anxious, looking for answers to questions they hadn't begun to formulate, and they did not know what to expect.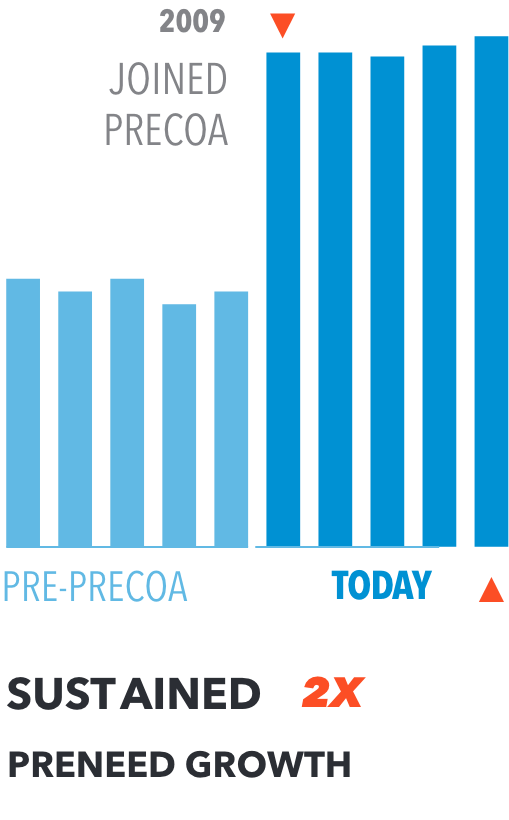 The families who had planned, however, were comparably calm. Yes, they had suffered a loss, but 95% of the details were taken care of. The difference, as Craig Sytsema recalls it, was clear. "Children who had lost a parent would come in and be amazed that everything was in such good order." Sytsema Funeral Home's preneed program soon set sail, but John admits that it was pretty simple. "We were relying mainly on walk-ins and referrals," he says. "The staff traded off answering the phones and doing the marketing. Everyone went up to bat and took a swing, but there was no focus."
The Sytsemas advertised in the newspapers and on the local radio, yet people were hesitant to make appointments. John and the other funeral directors gladly served anyone who dropped by, but their at-need business was growing. They faced the challenge of coordinating their growing preneed program with less time and fewer resources.
" We were doing well," Scott Sytsema admits, "but we didn't know what the future would hold."
As John likes to say, you don't know what you don't know. The Sytsemas were concerned that their program was becoming too big for them to steer on their own, and they needed a partner with the experience to manage it efficiently and effectively. Even more, this partner needed to care just as deeply about their funeral home as they did.
A Partnership Blossoms with Precoa
Craig remembers the day Precoa came by. "My father had just met with them, and he really liked what they had to say. He immediately sent me a message, 'They're coming down to talk to you!'" Like his brothers, Craig was managing one of Sytsema's funeral home locations, and he was bowled over by what Precoa was offering. The whole family was.
It's the extra things Precoa does behind the scenes—the research, testing, and development they do so we can take their innovations out to our community and see the benefits. John Sytsema Co-owner Sytsema Funeral & Cremation Services
"It was the attention to detail," Scott says. "We didn't have the knowledge or the resources, but they did. They showed us all of the options that were out there, but it was also their guidance and vision, which totally melded with ours."
ProActive Preneed® was innovative, providing the Sytsemas with substantial support and new, thoughtfully constructed marketing channels through which they could reach more families in Muskegon and western Michigan.
The Sytsemas were also quick to recognize how Community Education Programs provided a valuable service to those who attended. They appreciated that Precoa's programs were well-organized and informative, that they helped attendees understand why preplanning was so beneficial for their loved ones. Just as impressive were Precoa's behind the scenes innovations. The level of research that went into prototyping and testing lead generation sources became a constant they could trust.
It is so far beyond what we could have done ourselves John Sytsema Co-owner Sytsema Funeral & Cremation Services
"It is so far beyond what we could have done ourselves," John says. Above all, the Sytsemas appreciated the sales management and training that Precoa provided to their dedicated advance funeral planners.
"Our counselors are out there as the face of Sytsema, and we have to believe that they will build trust with families," Todd says. "Through Precoa, we know that this is true. Our preneed counselors are some of the very best, and we're proud of them."
10 Years Later and Still Running Strong
What began as two like-minded organizations looking out for each other's best interest has transformed into so much more. Mutual respect gave way to warmth and trust, while familiarity deepened into commitment. "We share the same values and beliefs, the same drive to do what's best for our community," Scott says.
John agrees. "Precoa has become a part of our family, and we've become a part of their family."
1929
Since 1929, four generations of Sytsemas have served the families of western Michigan and created a meaningful legacy. "I grew up walking across the parking lot when I wanted to visit my dad, and his work family became like our family." —Craig Sytsema
Precoa and Sytsema have seen each other through many changes. Together, they have watched the marketplace change, and they have worked side by side to help more families appreciate the importance of preneed. With Precoa, Sytsema has doubled their preneed volume and seen significant market share growth and at-need growth. They also have a trusted partner to help them look forward to the future. "We know that Precoa will always be at the cutting edge," Scott says. "We know how much research they put into everything they do. They always make sure they're doing it right."
Todd looks on, mulling over his brother's thoughts. "Precoa is working behind the scenes right now on brand new, exciting ideas, and we trust their attention to detail, knowing that they're always putting in 110%." The Sytsemas know that it's the little things that matter most. With the families they serve, they have one chance to do their very best. Being systematic yet compassionate is a balance they know well, and they recognize these same qualities in Precoa. "We have absolute trust in the guidance Precoa offers us," John says. "They want to grow, and we want to continue growing right along with them."